David Cooper

Dale Clevenger and the CSO section
CSO Recognizes Lewis
"CSO Stories" featured Steven Lewis' contribution to the sound of the Chicago Symphony Orchestra's horn section in a September, 2020 story.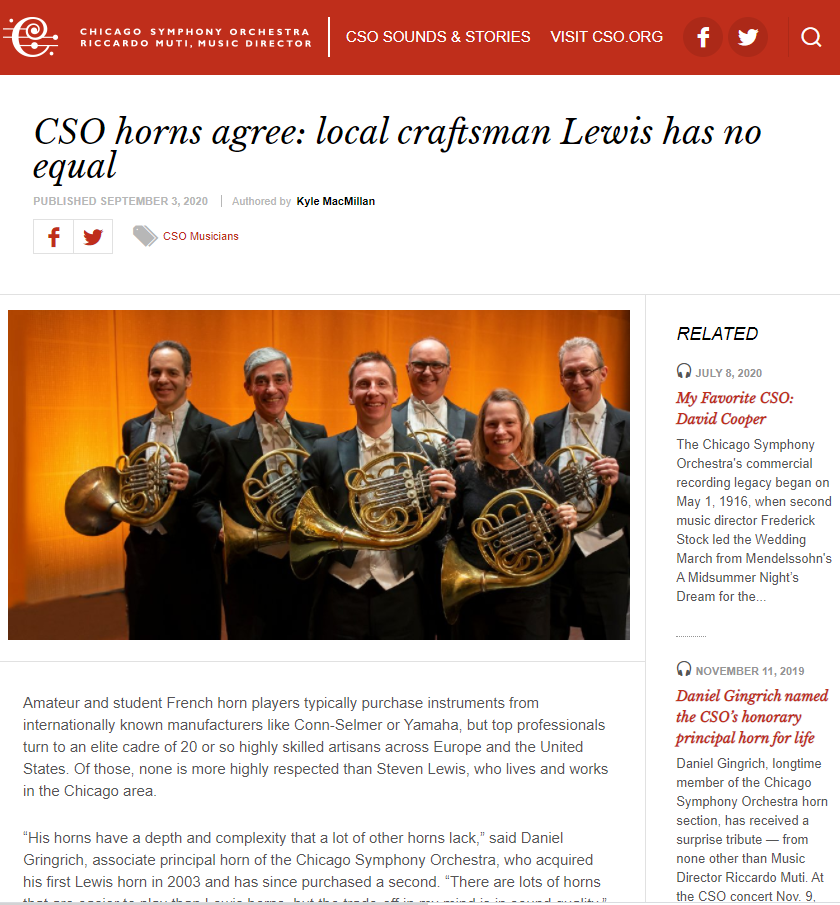 ---
David Cooper named CSO Principal
David Cooper was named principal horn of the Chicago Symphony Orchestra beginning with their 2019–2020 season. He had been a guest principal horn during the Chicago Symphony Orchestra's 2018–2019 season.
He previously served as principal horn of the Dallas Symphony, where he played in that position from 2013–2019 after starting with the Dallas Symphony in 2011 as 3rd horn. David briefly left the Dallas Symphony for the 2017–2018 season when he won Solo horn of the Berlin Philharmonic in 2016. Prior to those positions David had won principal horn of the National Symphony in Washington, D.C., but selected to stay in Dallas when named principal there.
David has played guest principal horn around the world, including with the New York Philharmonic, Los Angeles Philharmonic, London Symphony Orchestra, Philadelphia Orchestra, Hong Kong Philharmonic, and Saint Paul Chamber Orchestra. David enjoys many solo and chamber music appearances both in the United States and abroad.
David's first professional symphonic appointment was as acting principal horn of the Victoria Symphony from 2006–2008. David joined the Fort Worth Symphony as co-associate principal horn and served in that role from 2008–2011.
David Cooper's passion for the French horn is in his blood, with both his uncle and grandmother serving as horn players in the Lansing Symphony Orchestra. At age 11 David "earned" his grandmother's horn after proving he could play his first scale. She sent him home with a couple of Dennis Brain recordings and he says he has been "enthralled with the horn ever since." He began his studies right away with Dr. Dale Bartlett, his Grandmother's former colleague in the Lansing Symphony. David played with Michigan State University ensembles during high school starting when only 15. He was in the top MSU collegiate ensemble at age 16.
David attended the Curtis Institute of Music in Philadelphia from 2002–2004 and was awarded a Tanglewood Fellowship in 2003.
David did a year of service as an Americorps intern with the Jefferson Land Trust in Port Townsend, Washington after completing his studies and retains a passion for the outdoors.
In 2019, he released his second solo CD, "Impressions," available for purchase from CD Baby and iTunes and for streaming through many other services.